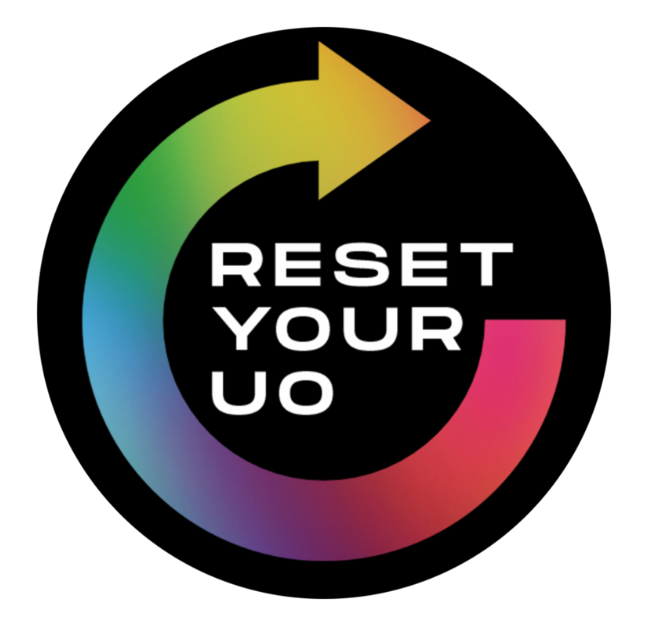 WHETHER IT WAS A 15 MINUTE DRIVE OR A 15 HOUR FLIGHT, WE ALL CAME FROM SOMEWHERE TO ARRIVE HERE. WE ANTICIPATED THE DAY WHEN WE WOULD OFFICIALLY BE CONSIDERED A DUCK. UNBEKNOWNST TO US, WE WOULD BE SETTING FOOT ONTO A CAMPUS DIVIDED. UNIVERSITY ORIGINATES FROM THE LATIN WORD UNIVERSUS, MEANING WHOLE AND ENTIRE.
HOWEVER, IT CAN BE EASY TO SLIP INTO A STATE WHERE WE FEEL PARTIAL, FRAGMENTED, OR EVEN INADEQUATE. THIS HAPPENS WHEN WE EMBODY DIFFERENCE WITH INTOLERANCE, ARE IGNORANT TO THE BEAUTY OF DIVERSITY, AND DON'T ACCOUNT FOR OTHERS' WELL-BEING. WE MAY NOT ALWAYS HEAR THE VOICES OF OUR PEERS, BUT NOW IT IS TIME TO LISTEN.
NOW IS THE TIME TO FORGE A NEW PATH. IDENTICAL TO OTHER UNIVERSITIES, WE ONCE LOOKED TOWARD COLLEGE FOR A PROMISE OF UNIFICATION. TOO OFTEN HAS A COLLEGE'S CLIMATE FAILED TO DELIVER ON THAT PROMISE. WE CANNOT ALLOW OUR PREJUDICES TO FOLLOW US ANY LONGER.
NOW IS THE TIME TO  

RESET YOUR UO

.
The Ask:
Reset the Code was a student-driven initiative that shed light on the
unspoken
thoughts and feelings of those on University of Oregon's campus.  Following the 2016 presidential election, feelings of hate and disrespect drove a collective motive for change. By pledging to "reset the code", students could now commit to a higher standard of respect. To ensure its longevity, Reset 2.0 is working to
embrace identity
in order to further address this issue. 
The Strategy:
A t
ransition, not a shift away. The big idea ,"Reset Your UO", was created with the intention of building on the foundation of the original campaign. The
Your
personalizes the campaign, speaking to individuals about their college experience. The
UO
unites these individuals under one campus. 
The transition from Reset the Code's black & white scheme to an array of colors hols true to the creative strategy. This campus is not binary, but rather a fusion of cultures, identities, & stories. The colors, in this case individuals,  all bleed into one another to form a whole- the University of Oregon. 
The Solution:  
ROLLOUT COMING FALL OF 2019
See campaign deck for execution mock-ups
ACCOUNT MANAGER | CAMILLE FURBY